Vern Griffiths is a dynamic and versatile performer who joined the Vancouver Symphony as Principal Percussionist in 1997. He has also played with Standing Wave, the Music On Main All-Star Band, Turning Point Ensemble, CBC Radio Orchestra, and can be heard on soundtracks for Disney, ABC, IMAX, NFB, EA Sports, and Dreamworks. 2019 saw him perform the world premiere of Perxploitation, a full-length percussion concerto written for him by Nicole Lizée. He made his VSO conducting debut in 2013 in Stravinsky's Histoire du Soldat, and his VSO composing debut in 2019, in his piece Kitchen Concerto. He also composed Jack of Hearts in 2020 to be part of the VSO kids show with Circus West.
For over a decade, Vern has played dozens of performances of his kids concert Wall to Wall Percussion with the Vancouver, Victoria, Calgary, Edmonton, Winnipeg, and Toronto Symphonies. His new show, The Composer Is Here, debuts in March 2022, and explores in a fun and engaging way the art of composing — featuring several living, local composers!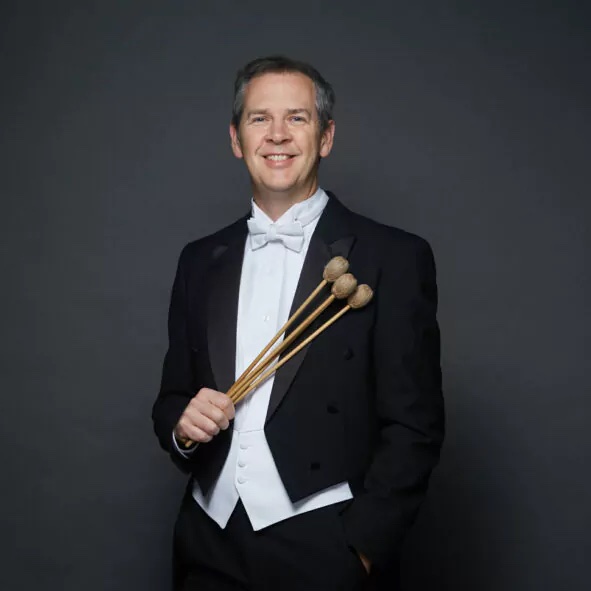 Born and raised in North Vancouver, Vern has degrees in both Commerce and Music from the University of British Columbia, studying percussion with John Rudolph. Vern then earned his Master of Music degree in Orchestral Performance from the Manhattan School of Music, as a student of Chris Lamb of the New York Philharmonic and Duncan Patton of the Metropolitan Opera Orchestra.
A committed educator, Vern has been teaching percussion at UBC since 1997, as well as teaching at the VSO School of Music and the VSO Institute each summer.
Vern is proud that the Principal Percussion chair is endowed by his friend and generous patron of the arts, Martha Lou Henley.